Shop our range of weatherproof rattan chairs and furniture sets online today, with UK delivery across our entire range. We have all weather rattan patio chairs, bistro sets, sofa sets, dining sets, and corner sets to choose from.
Jump to section: Bistro Sets | Dining Sets | Sofa Sets | Chairs
Weatherproof Rattan Bistro Sets
Here are smaller two seater sets with a small side table, made from comfortable and durable all weather wicker. Cushions are included. Colours include grey, silver grey, and cappuccino brown.
Weatherproof Rattan Dining Sets
Eat outside on the patio with your friends and family, with our range of weatherproof rattan dining sets. These include 4 seater, 6 seater and 8 seater sets, all with comfortable rattan armchairs.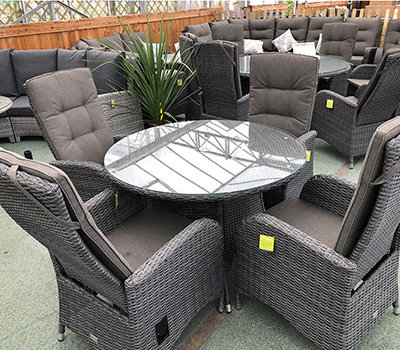 Weatherproof Rattan Sofa Sets
If you want to relax on the patio, then our range of rattan sofa sets will be perfect. Because they are weatherproof and modular, you don't have to store them all inside, leave them out in all weathers. All cushions are included with this aluminium framed furniture.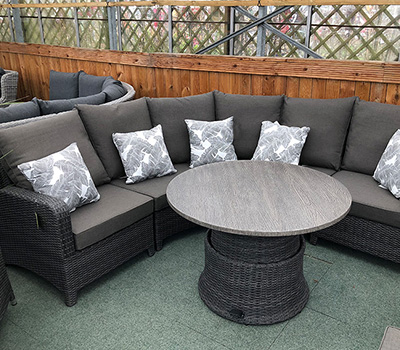 Weatherproof Rattan Chairs
Maybe you just want a place to relax by yourself, or need a comfortable rattan chair to pass the hours away in the sunshine this summer. Either way we have a range of armchairs to choose from, including a range of rocking rattan chairs which you will thoroughly enjoy. These comfy garden chairs will be perfect for you to relax in.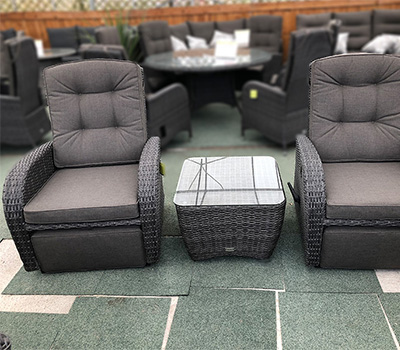 What garden furniture can be left outside all year round?
Garden furniture marked as weatherproof can be left outside all year. It is usually made from either weatherproof rattan (including an aluminium frame) or from composite furniture (typically the Winawood variety). These are formed using man made materials treated to prevent deterioration from the weather.
What is plastic resin wicker made from?
This new synthetic type of wicker uses a uPVC or plastic resin material, hand woven around the frame of the furniture. It is UV stabilized to ensure it's weatherproof, preventing it from fading or cracking due to the suns UV rays.
Is this resin garden furniture?
Yes this would be considered resin garden furniture, as most people associate this term with modern rattan.
Do you deliver to the United Kingdom?
Yes all furniture on our website is available to be delivered across the United Kingdom.
Will this furniture fade?
No this furniture will not fade, because it has been treated to be UV stabilized.
Will this furniture rust?
No this furniture will not rust, because it uses aluminium for the metal components which cannot become rusty.
Are cushions included?
Yes all main cushions are included with your purchase.
Can this be used on by decking?
Yes these rattan sets would be perfect on an outdoor decking area, just make sure there is plenty of room and they aren't too close to the steps.
Can this be used on my balcony?
Yes a lot of our customers uses these chairs for their balcony, and they can be the perfect place to relax and enjoy the view.
Can this be used on my patio?
Yes this furniture is ideal for the patio, whether that's having breakfast on a bistro set in the morning, or having a full blown bbq on a dining set.