Create a luxurious garden seating area this summer with our range of reclining rattan sofa sets. All available to purchase online, with UK home delivery included.
Each side of the sofa has its own reclining lever, so two people can sit down with different chair angles at the same time.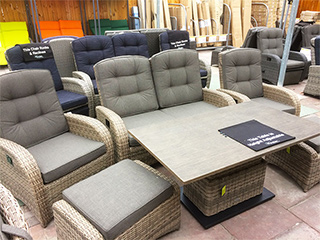 New Adjustable Sofa Set Table
Now you have the benefit of both relaxed and formal dining in one set, with our new adjustable dining table. You can have it low for relaxed drinks, or raise is to enable a full dining experience. This provides much more flexibility than your traditional furniture set, demonstrated in the reclining furniture video on this page.